OF2-WALS GRIGIO VITRIFIED PORCELAIN:
One of the key features of OF2-Wals Grigio Vitrified porcelain is its exceptional strength and durability. The tiles are fired at high temperatures, which makes them incredibly resistant to scratches, stains, and wear and tear. This means that they are ideal for high-traffic areas like entryways, kitchens, and bathrooms, as well as commercial spaces like restaurants, hotels, and offices.
In addition to being tough and durable, OF2-Wals Grigio Vitrified porcelain is also incredibly easy to maintain. Unlike natural stone or other types of flooring, porcelain is non-porous, which means that it doesn't absorb water or dirt. This makes it simple to clean with just a mop or a vacuum, and it also means that it won't harbor bacteria or allergens.
The OF2-Wals Grigio Vitrified porcelain also features a swan edge finish, which gives the tile a polished and sophisticated look. This finish adds an extra layer of protection, making the tile resistant to chipping and cracking, ensuring that it retains its beauty and durability for years to come. 
OF2-Wals Grigio Vitrified porcelain is an excellent choice for outdoor areas near water features, swimming pools, and spas, thanks to its matt anti-slip feature as well as its sawn edges. This feature ensures safety on wet surfaces. The paving's slip-resistant nature provides a stable surface, reducing the risk of slips, trips, and falls, making it a safe option for any outdoor area.
Another advantage of OF2-Wals Grigio Vitrified porcelain is its versatility. The tile is available in a range of sizes, from large format tiles to smaller mosaic patterns, which makes it easy to create custom designs and patterns that complement any decor style. The grigio color palette is perfect for modern and contemporary styles, adding a touch of elegance and sophistication to any space.
One of the standout features of OF2-Wals Grigio Vitrified porcelain is its texture. The tile features a unique, textured surface that gives it a natural look and feel, similar to that of stone or wood. This not only adds visual interest to the tile but also enhances its slip resistance, making it a safe and practical choice for areas that are prone to moisture or spills.
Conclusion:
OF2-Wals Grigio Vitrified porcelain is a high-quality flooring option that offers a range of benefits, including strength, durability, ease of maintenance, versatility, and a natural look and feel. Whether you're renovating your home or outfitting a commercial space, this porcelain tile is an excellent choice that will provide years of reliable use and timeless style.
Our porcelain paving has a very low porosity, which means no stains, no water damage, and no need for sealing.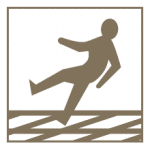 Slip Resistant – Stain Resistant – Frost Proof – Fade Resistant – No Maintenance Required!
Suggestions laying with adhesive on a Screed
1 Apply the adhesive spreading two layers, one on each surface (on the tile and on the foundation).
2 Arrange gaps of 3-5 mm between the tiles using the cross spacers provided for this purposes.
3 Upon completion, clean the surface thoroughly removing all residues of plaster and adhesive.
Suggestions laying dry on Grass
1 Once the positions of the tiles have been decided upon, remove the grassy surface for a depth of about 5 mm.
2 Place a layer of fine gravel or sand in the empty space to level it & stabilise the tile.
3 Position the tile, checking that it is flat and correcting this if necessary
Suggestions laying dry on Gravel and Sand
1 Flatten the surface of the foundation with the help of a levelling bar.
2 Choose the pattern, arranging the tiles on the ground.
3 Position the tiles exactly, using a bar to space them out (or cross spacers if positioned close together) to improve the alignment.
You can also check our related products like Petra Abbey Vitrified Porcelain.